Ok so its OT week this week 3/11/2009 till the 8/11/2009.
If you didn't no already I am occupational therapist and thought it was about time people began spreading the word.
So from this evening i set you a challenge, I want you to spread the word of OT through any media you can. Send links back to me via, livejournal, facebook, bebo, twitter or email.
You get a point for every time you mention OT (remeber and show me the link or it doesnt count) and you get a point for every question below you answer correctly.

First prize got to the person with the highest points if more than one person has the same number of points its names in a hat.
Second and third prize goes to the people with ether the next 2 highest scores or the other names picked out of the hat.


The prizes are:
First prize - OT themed charm bracelet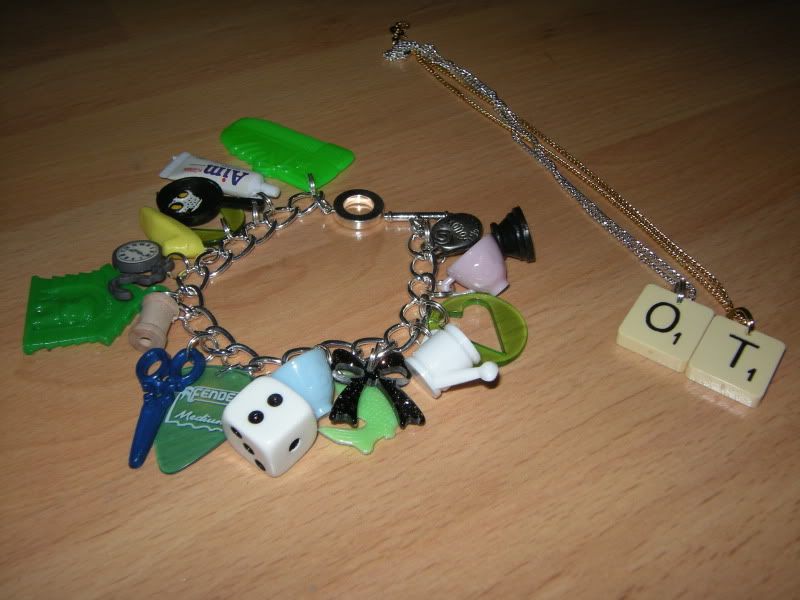 Seconded and Third prize is a scrabble charm necklace, with letter of you choice on ether silver or gold plated chain.

Give away ends at 11pm on Sunday :) Have fun and good luck.

Let me know if you learn anything new about OT on the way.

Here is the quiz to test your knowledge about some of the things occupational therapists do.

1. Occupational therapists address clients holistically and address the cognitive, psychosocial, environmental, spiritual and biophysical aspects of a person's engagement in activities.
True
False

2. Occupational therapists' primary role it to help clients obtain jobs.
True
False

3. Occupational therapists evaluate and address areas of self-care, work/productivity and leisure.
True
False

4. ADLs are:
Adapting to Disabled Life
Activities of Daily Living
Accidents During Life
Activities During Life

5. An instrumental activity of daily living would include:
Vacuuming
Meal preparation
Driving
All of the above

6. A hip kit is a package of equipment often issued to patients following hip or back surgeries, who are unable to bend at the waist for many weeks post surgery. Which of the following devices is not included in the hip kit?
Reacher
Sock Aid
Elastic shoe laces
Long-handled shoe horn

Send the answers back to me through private message system on you chosen networking site.